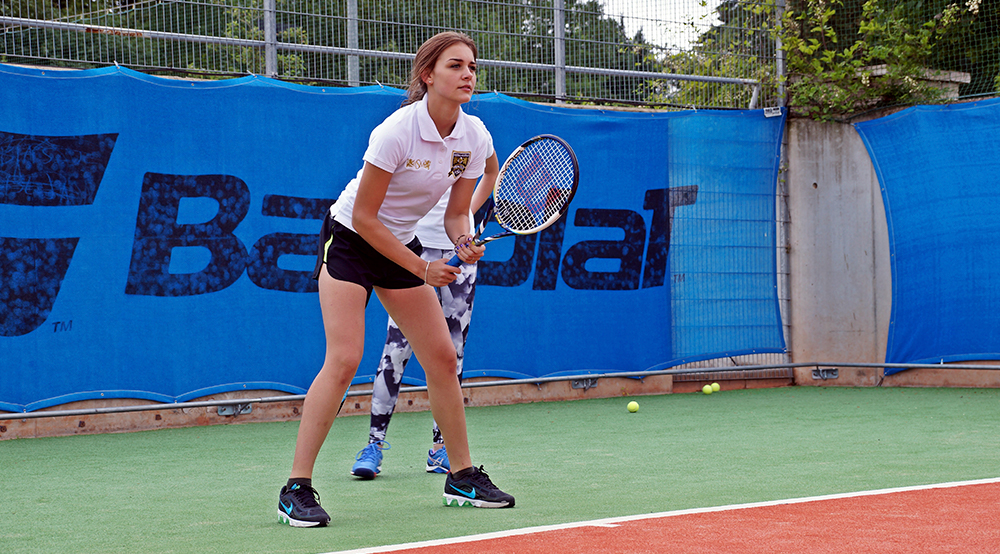 The summer camp from the MSM Tennis Academy is suitable for students from 14 years old. The course includes intensive tennis training and English language classes. The course is equally suitable for amateurs and professional players. 
The course plan is based on individual training for each participant and individual training schedule. The professional staff of the MSM Tennis Academy and great facilities will help the students to improve their skills.
The Czech tennis training is considered one of the most advanced in the world and Czech tennis players are among the award winning elite.
Program Dates:
01.07.2018 – 31.07.2018
01.08.2018 – 30.08.2018
Course Program:
Tennis training: 4-5 times a week, 2 hours per day
The course includes individual training and classes in mini-groups, as well as cardio training.
Tennis courts surface: clay courts – they produce a high bounce and are widely used in professional tournaments.
Academic Classes:
50 academic hours, 4-5 times a week
Subjects: English language and history of Prague as part of the language course
The classes take place in the MSM Academy international language school.
The MSM Academy Language School
The MSM Academy is an international language school, which carries out its educational activities in many areas, namely:
offers a range of foreign language courses in Prague – only with native speakers;
provides a unique language preparation course for entry into British, Canadian, American and Czech universities;
provides a unique language preparation course for the Double Degree – Czech Republic + Switzerland course, for Czech University of Life Sciences (CULS), Hotel Institute of Montreux (HIM) and Cesar Ritz Colleges;
organizes trips to foreign language courses in the world-renowned language centers.
Long and intensive exchange of professional experience with foreign colleagues allows MSM Academy to continuously improve the quality of services provided.
Entrance Requirements
Language: basic English language skills – A1/A2 – only for communication with the staff.
Age: 14+
Accommodation
Throughout the whole period of the course the students are accommodated at the residences Villa MSM ( U Svobodarny), Dejvice, Orlik and Masarykova kolej. All residences have the same standards of living. Students are accommodated 2 people per room, two rooms per apartment. Every apartment has separate bathroom amenities.
All photos are available online at the MSM Gallery – accommodation section.
Cultural Program
The International Union of Youth prepared the most exclusive way to spend summer holidays– study along with active sport and eventful vacations!
Welcome Party
Orientation program in Prague
Guided tour in Prague, Prague Castle, the Charles Bridge
Visiting museums and exhibitions
Vltava River Boat Tour
Visiting the famous Prague Zoo
Pool, beach activities
The largest aquapark in the Czech Republic
Night walk around Prague
Sport events
Trip to Karlovy Vary
Trip to Czech Krumlov
Farewell Party
University open-house tours – getting to know higher education opportunities in the Czech Republic
After graduation, students receive certificates of successful completion of the course.
The Fees Include:
Lessons at MSM academy;
Tennis training;
Accommodation in Prague;
Half-board (breakfast and dinner);
Cultural program;
Czech SIM-card with credit;
Transport pass for one month (all public transport types);
Meet & greet 24/7 (aeroport, bus or train station in Prague);
Round transfers;
Sports uniform – T-shirt, shorts and a sports bag;
Unlimited free access to Xplore Fitness centres;
24/7 councilor support throughout the stay with MSM.
All participant of the course receive MSM uniform – shorts and a T-shirt from companies Nike and Joma.
On the basis of long-term and successful cooperation with the Xplore Fitness centers the International Union of Youth has signed an exclusive cooperation agreement, so now all the students from the 18 y.o who will come to MSM summer program will have a free unlimited access to these exclusive fitness centers. Xplore Fitness includes: a gym, a swimming pool, a whirlpool, a sauna.